At Royal Jewelers & Loans, we pay cash for silver. Before you sell your silver, it's important to know what you've got. The spot price for silver is for pure silver. Most jewelry is not made of pure silver; it is made of sterling silver.
Sterling silver jewelry is 92.5% silver, hence the .925 imprinted on some jewelry. The remaining 7.5% will usually be copper.
Coin silver is what most U.S. currency is made from. Some jewelry will also be stamped coin silver or .900. This is 90% silver and 10% some other metal.
Spot prices are for pure silver. Silver jewelry sold by weight is only worth a precentage of the spot price.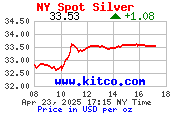 To lean more about silver, read our silver purity guide. Royal Jewelers & Loans buys silver. So, if you want to sell silver, bring it in to one of our Chicago Pawn Shops for a quote.
Click to see our store locations if you would like to sell silver in Chicago land.